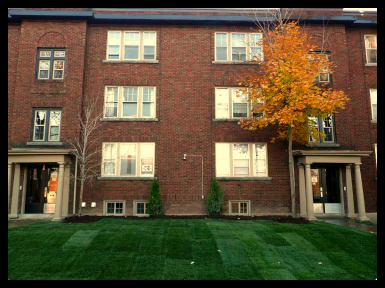 2-4 Paisley South
University Court (2008)
Apartments
1 Bedroom

2 Bedroom
.: Current Status :.



Sorry...This Location is Full !



TEXT HERE TO JOIN OUR APARTMENT ALERTS





OR

Join our 'E-VACANCY NOTIFIER' Here





*Please see Homepage for current COVID-19 Precautions








#
Date Available
Apartment Type
Style
Price
Inclusions
Extras
$
Water, Heat
Hydro




Arguably one of the best and most-sought after location in West Hamilton ! University Court Apartments is located at the corner of Paisley Avenue South and King Street West - one of our closest locations to McMaster Campus, and right in the middle of WESTDALE VILLAGE. Approximately an (8) minute walk will get you to the Main Campus Entrance located at Sterling and Forsythe, near the Student Centre and Mills Library. Situated in the heart of WESTDALE VILLAGE in West Hamilton, this 3-Storey vintage 1931 building offers renewed old world charm, and the craftsmanship and stylistic cues of early Ivy League University Residences. You won't need a vehicle here - all eating, schooling, work and entertainment options are right at your doorstep including the newly restored WESTDALE THEATRE. Street parking is available (with City Permit) if a vehicle is a must.
(Note: Pictures shown are not of all or exact available apartments - condition varies however illustrations are meant to reflect typical calibre).
CLICK HERE for Suite Layouts⁄Styles
Additional Photos:
_________________________
Location:
_________________________
This Building is located in the centre of Westdale Village, at the corner of King Street West and Paisley Avenue South.
Area Features:
_________________________
You are steps away from many independent shops for: cycling, comics/hobbies, florists, cafe's, hairdressers and a bakery in WESTDALE VILLAGE. Larger retailers such as Tim Horton's, Subway, Shopper's Drug Mart and major banks are a close walk away. Westdale Village offers numerous restaurant choices, and a vintage MOVIE THEATRE. 400 Series Highways are immediately accessible (a few seconds away) for Toronto, Niagara Falls, Ancaster and Brantford travel. Please visit our list of local CAFES, PUBS & RESTAURANTS.

Other area features include: Locke Street Antique District/Shops, McMASTER HOSPITAL, The Hamilton Farmer's Market, Jackson Square, Hamilton Place, City Parks (Oak Knoll, Churchill, Coronation, Cathedral, Kay Grage, Dundurn Parks), Princess Point and HESS VILLAGE are all accessible within short drive. Popular Annual Festivals are held within the village temporarily closing area streets to through traffic and drawing many visitors.

Whether grocery shopping or dining out, buying from one of the local bakeries, relaxing over a drink on a nearby patio, working downtown, or visiting Hamilton Place for a show, many options are readily available. Going to McMaster University or Mohawk College? You may walk to campus from this location in approximately 8 minutes. HSR Bus service (not necessary) is available close by. GO-TRANSIT bus service is also close by, within a short walk.
Suites Include:
_________________________
All Units have original hardwood flooring and trim, decorative fireplaces and wood mantles, (also some newer Electric Fireplaces have been installed) Many Kitchen and Bathrooms have been renovated upon unit turnover with new ceramics, newer appliances, cabinets, countertops, paint, sinks, taps, shower controls and low flow eco-friendly toilets. All units are complete with window Mini-Blinds, and rear fire-escape veranda's. (except lower level units). Coin Laundry Facilities and storage Lockers are also available on the lower level and our SERVICE TEAM is close by for any maintenance matters. Viewings are by appointment only, and typically require 24 hrs advanced notice. (we like to provide suitable notice to our current tenants) When our signs say 'available', contact us, and we'd be happy to give you a tour!
Google Map:
_________________________
Suite Layouts/Styles:
_________________________
< back to Our Buildings